506docs.com

Your Home for Reg. D Compliant PPM Templates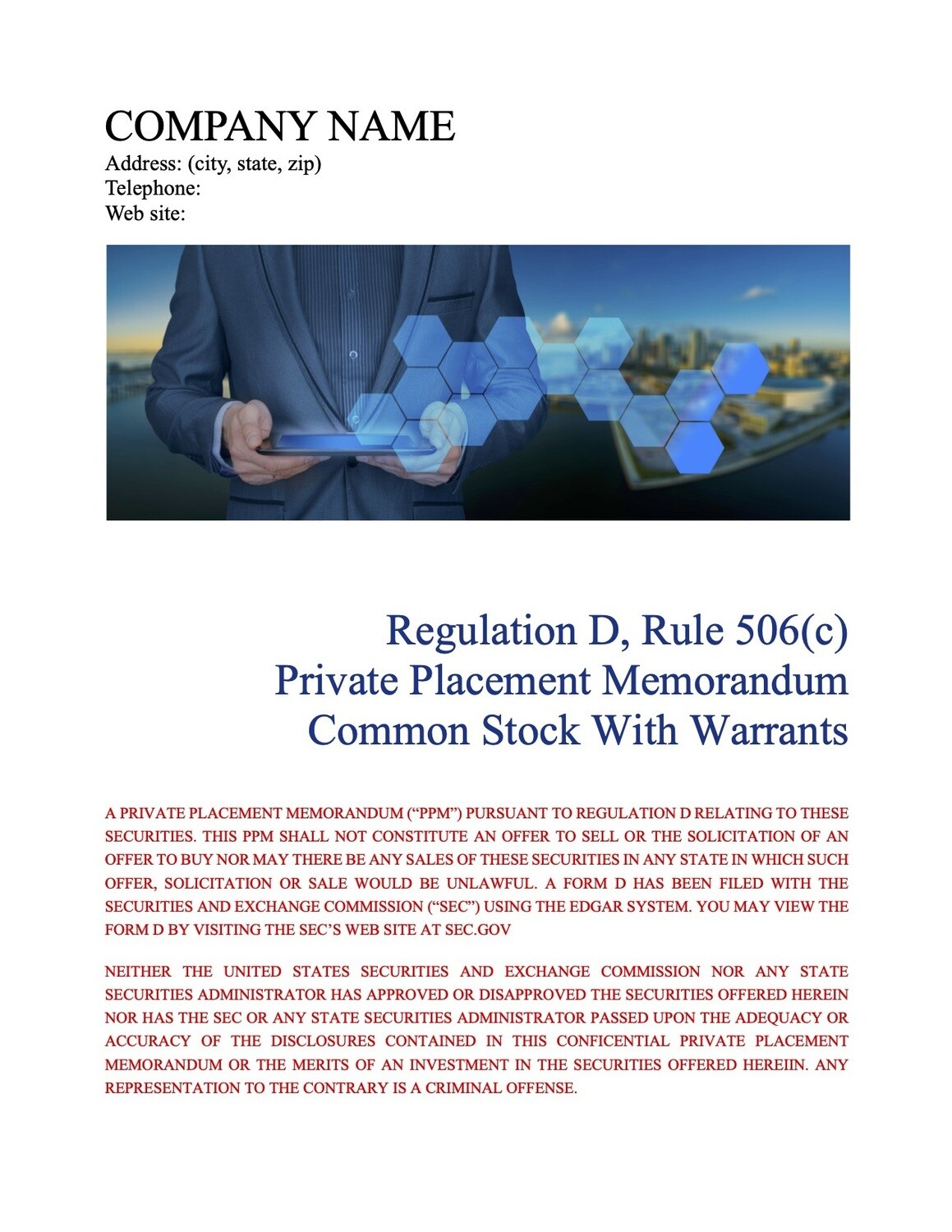 Rule 506(c) Common Stock With Warrants
SKU 00019
Full Set Of Reg. D, Rule 506(d) Offering Documents For Your Corporation
Product Details
A Feature-rich, Rule 506(c) Compliant Private Placement Memorandum (PPM) Template Ideal For Your Corporation Issuing Common Stock With Warrants. Easily create your own Rule 506(c) compliant, custom PPM and full set of compliant offering documents.
Template Features
Min/Max Capital Raise;
Escrow Services;
Easily-to-edit sample content to save you time in creating your offering documents.
Description
Our Regulation D compliant Rule 506(c) PPM template is ideal for your corporation issuing Common Stock with Warrants. The template features sample content from Forms S-1 that have been declared "effective" by the SEC. The sample content is written in Microsoft® Word making the PPM's content easy to edit for your capital raise.
Your PPM Package Includes These Important And Necessary Documents
Private Placement Memorandum;
Subscription Agreement;
Certificate of Signatory;
Investor Verification;
Third Party Verification Letter;
Form Of Warrant;
Notice Of Exercise;
Jurisdictional Legends (all 50 states);
ERISA Disclosure;
Anti-money Laundering Certification;
Anti-money Laundering Definitions;
Anti-money Laundering Certification;
Form D;
Capitalization Table;
Executive Summary/Pitch Sheet;
Form U-1;
Form U-2;
Form U-2A.
PPM Delivery
The single zip file, containing all of the documents you need, is available for download after purchase. You will receive an email containing the link to download your files.
State "Blue Sky" Laws

We encourage issuers to contact the state securities regulators in the state in which they intend to offer or sell securities for further guidance on compliance with state security laws.
Although we created these documents to conform with the disclosure requirements of Regulation D of the Securities Act of 1933 and Regulation S-K, these documents present an array of often mutually exclusive options with respect to particular Regulation D provisions. We encourage you to tailor the template to accurately reflect the specific provisions of your Regulation D capital raise.
Save this product for later